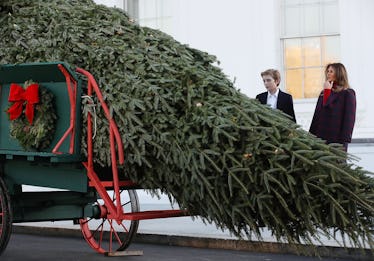 Melania Trump Showed Off Her White House Christmas Decorations & It's So Festive
Mark Wilson/Getty Images News/Getty Images
On Monday, Nov. 27, first lady Melania Trump showed off her White House Christmas decorations, and it's a whole lot of holiday sparkle. She shared a festive video of her decor on Twitter, ready to ring in December in dazzling style. The White House Christmas decorations are a long-held American tradition for the first lady, who typically is in charge of running the household, including decorations, furnishing, and event planning (because women!).
Decorating the White House for the holiday season is a tradition that goes back 200 years. According to the White House Historical Association, the first White House Christmas party was hosted in December 1800 by President John Adams and first lady Abigail Adams. It was just a little party for the young children of Washington D.C.'s politicians. But it wasn't until 1889 that the White House first got a Christmas tree, when President Benjamin Harrison's administration brought it into the Yellow Oval Room on the second floor of the house. And, of course, first lady Jacqueline Kennedy had to come in and jazz the tradition up by creating annual themes for the White House Christmas tree (the first one she picked was the Nutcracker ballet).
You can see first lady Trump's White House Christmas decorations in the official video here:
As you can see in the video, there is definitely more than one Christmas tree up in that house. That's helpful, because first lady Trump is tying a whole bunch of themes into this year's official theme. For her first year in the White House, Trump's Christmas decorations theme is "Time-Honored Traditions," according to a White House press release. So it's basically a theme of themes.
The "Time-Honored Traditions" celebrated in this year's White House Christmas decorations includes a Gold Star Family Tree for service members and their families and a display of holiday White House hospitality — including china from President Ronald Reagan's administration and President Franklin D. Roosevelt's 1866 edition of A Christmas Carol, which he read to his family on Christmas Eve. There's a room honoring Jackie's Nutcracker decor, a room for crafts and classic design, a room with holiday treats (yum!), and, of course, the Blue Room hosts the official tree. Finally, the State Dining Room gets to host a gingerbread house version of the White House.
The video also shows a glimpse of a White House Christmas ornament, another American tradition. The one in the video does not appear to be 2017's ornament; the official 2017 White House Christmas ornament sold by the White House Historical Association is colorful and in honor of Franklin D. Roosevelt.
The video shows first lady Trump going around the White House and observing the work being done on the holiday decorations, as well as jumping in to help out with some things. She wears at least two outfits in the video, one being this super comfy-looking gray turtleneck look:
Some basic photo sleuthing shows the first lady wearing that same outfit on Sunday, Nov. 26, upon her return to the White House from a long Thanksgiving weekend spent in Florida.
First lady Trump said in a statement that she, son Barron, and Donald Trump are "very excited for our first Christmas in the White House." Melania and Barron Trump accepted the White House Christmas tree — a 19-and-a-half-foot Balsam fir — on Nov. 20.
"As with many families across the country, holiday traditions are very important to us. I hope when visiting the People's House this year, visitors will get a sense of being home for the holidays. On behalf of my husband and Barron, I want to wish everyone a Merry Christmas and joyous holiday season," she said.
FLOTUS also used the term "Merry Christmas" in her tweet sharing the video, which, doubtless, her husband appreciated.