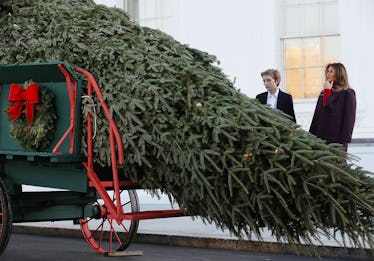 Melania Trump Welcomed The White House Christmas Tree Early For This Predictable Reason
Mark Wilson/Getty Images News/Getty Images
Christmas came early for the Trump administration this year. Melania Trump was on-hand to accept the White House Christmas tree a few days ahead of schedule, because the family is heading to Mar-a-Lago for Thanksgiving break. And while it's not at all unusual for the first family to take a holiday, video of Melania Trump welcoming the White House Christmas tree is just another reminder of how many times our president has gone on vacation. Seriously, it's pretty staggering.
Every November, a giant Christmas tree is shipped to the White House. The tree is typically accepted by the first lady the Friday after Thanksgiving, and then placed on display in the White House Blue Room. This year, a 19 1/2-foot Balsam fir was escorted to the White House lawn a few days ahead of schedule because, according to ABC News, the Trumps are headed to the Mar-a-Lago resort in Palm Beach, Florida for the long weekend.
So on Nov. 20, three days before Thanksgiving, Melania Trump accepted the tree alongside her son Barron. A band played Christmas music on the White House steps (a little surreal for November), and a horse-drawn carriage holding the tree awaited the mother and son. Pictures were snapped, and all was well. And yet, happy-go-lucky photo-op aside, it's hard to ignore the fact that Donald Trump is heading to Mar-a-Lago... yet again. Trump has already spent seven weekends at Mar-a-Lago this year, according to the Palm Beach Post, which is definitely a lot in comparison to the amount of vacation days his predecessors have taken.
By August, Trump had already taken three times as many vacation days as Barack Obama, The Washington Post reported. He had also played almost double the rounds of golf that Obama played. According to an analysis conducted by Politico, it costs tax payers (try not to vomit) nearly $3 million each time Trump heads to Mar-a-Lago.
Want another sickening statistic? NPR figured out that Trump's weekend trips alone are estimated to outspend Obama's entire eight-year travel budget.
"For someone who complained about President Obama traveling a lot, he's going to supersede President Obama's travel, all eight years [of it], within a year, which is just absolutely ridiculous," Democratic Rep. Ruben Gallego of Arizona told NPR, shortly after signing a letter asking that the Pentagon look into the president's use of Air Force One.
If that's not enough to convince you that our president really, really likes his days off, let's take a look at vacation days taken by his other predecessors.
Trump has already taken more vacation than Clinton and Bush, according to The New York Times. If you break down the 99 days following each president's inauguration, Trump's leisure days tally to 25, Bush's 16, Obama's four and Clinton's zero.
This whole thing is made all the more frustrating given the fact that Trump slammed the idea of presidents taking vacation. Like, multiple times. Vehemently.
Before becoming president, Trump completely dismissed the idea of taking vacations altogether. He said, per The Hill,
I would rarely leave the White House because there's so much work to be done. I would not be a president who took vacations. I would not be a president that takes time off. You don't have time to take time off.
Hmmmm.
That's not all. During a rally in Manchester, New Hampshire on Nov. 7, 2016, he said,
[Obama] goes out and plays golf so much that he doesn't have time to convince Congress to go and — let's do it the way it's supposed to be done, right? I mean he's played more golf than most people on the PGA Tour, this guy. What is it, over 300 rounds? Hey, look, it's good. Golf is fine. But always play with leaders of countries and people that can help us! Don't play with your friends all the time.
Annnd there was more. During a Virginia rally on Aug. 8, 2016, he claimed,
I'm going to be working for you. I'm not going to have time to go play golf.
*Sigh.* Funny how things change. In the meantime, can't he get a less expensive hobby? I will gladly do the research to find D.C.'s very best mini putt-putt course.