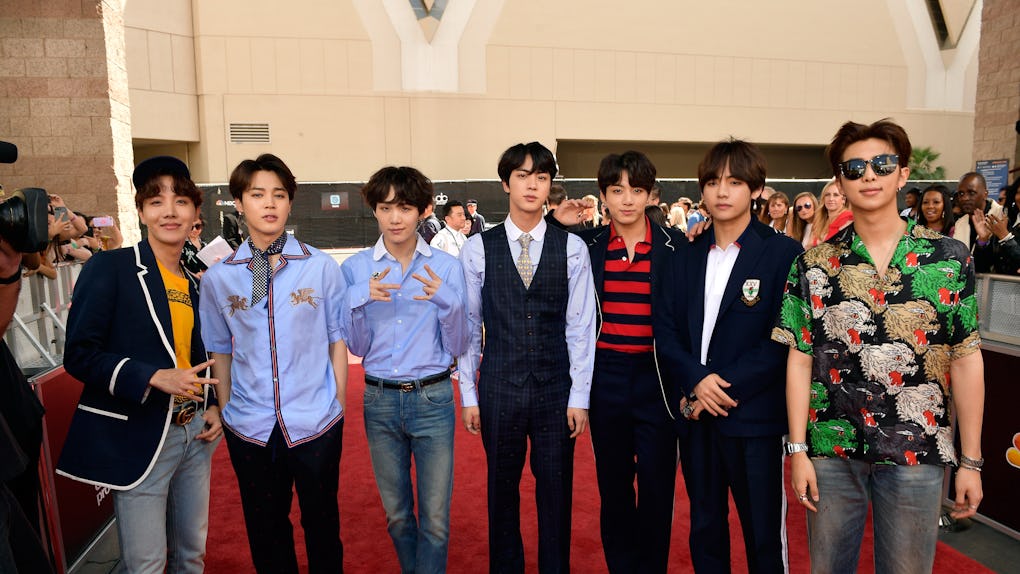 Matt Winkelmeyer/Getty Images Entertainment/Getty Images
20 BTS Lyrics For Instagram Captions Since Your Followers Don't Give You Fake Love
Any boy band enthusiast will tell you that when a set of talented fellas get together and form a group, it's straight fire. The Korean pop group, BTS won't make you forget *NSYNC or the Backstreet Boys, but they're definitely making a name for themselves. Their relatively new Love Yourself: Tear album could give you so many BTS lyrics for Instagram captions, you won't know where to start.
The seven-member group has been around for a few years now. In fact, their debut dates back to 2013. By the way their fan base is set up, though, these guys have become quite the influential heartthrobs. I mean, do you expect anything less from a boy band? ICYMI, they made history earlier this year as the first K-Pop band to perform at the Billboard Music Awards. The performance? They blew it out of the water and fans could hardly contain themselves in-person and online.
You don't have to pledge your allegiance to the BTS Army in order to vibe with their music. (Or, has that ship already sailed?) Their music is as eclectic as each of their members, so any of these 20 captions will capture a variety of different moods you're sharing on the 'Gram.
1. "I wish love was perfect as love itself"—Jimin & Jin, "Fake Love"
2. "You can't stop me lovin' myself."—Jungkook, RM & Jimin, "IDOL"
3. "There are hundreds of me's inside of me. I'm facing a new me again today. It's all me anyway."—Jungkook, "IDOL"
4. "I don't have money but I wanna relax."—J-Hope, "Go Go"
5. "Just go instead of worrying."—BTS, "Go Go"
6. "All the underdogs in the world, a day may come when we lose, but it is not today. Today we fight."—RM, "Not Today"
7. "Would you believe me if I said that I was scared of everything too?"—V & Jimin, "Magic Shop"
8. "I wanted to be a warm wave, but why didn't I know you're the ocean?"—Rap Monster, "Best of Me"
9. "We must believe only in ourselves."—Jimin & Jin, "Love Maze"
10. "My week goes Monday, Tuesday, Wednesday, Thursday, gold, gold, gold, gold."—V & Rap Monster, "Go Go"
11. "Can't afford to be confused."—J-Hope & Suga, "IDOL"
12. "I want to listen to your melody."—RM, "Magic Shop"
13. "Feels like I'm walking across the sky."—Jimin & Jungkook, "Best of Me"
14. "No matter what others say, don't listen."—Jimin & Jin, "Love Maze"
15. "Every time I see you, my heart gets dangerous."—V, Jimin, Jin & Jungkook, "Dimple"
16. "Come here, I'm your paradise."—Jin & V, "Pied Piper"
17. "I worked all night, every day, while you were playing in the club."—V, "Dope"
18. "My blood, sweat, and tears. My body, mind, and soul."—BTS, "Blood Sweat & Tears"
19. "I grew a flower that can't be bloomed in a dream that can't come true."—V & Jungkook, "Fake Love"
20. "Baby, just don't give a d*mn."—Jimin & Jin, "Love Maze"
Next time you need to simultaneously show your love for BTS and post a solid Instagram update, don't forget to refer to this helpful guide for all of the best BTS lyrics for your photos.
This article was originally published on