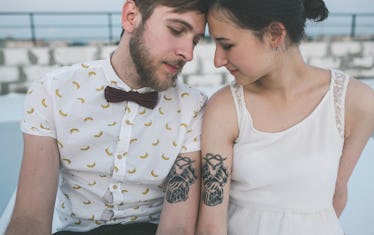 17 Commitment Tattoos To Get With Your SO To Show Your Love Is Permanent
Shutterstock
There are lots of ways to show someone that you're devoted to them for life — beyond the conventional acts of getting engaged and married, wearing wedding rings, and exchanging vows. In fact, one might argue that there's hardly a more permanent way to express your love than by etching it into your skin. If you're thinking about going that route, there's a wide variety of commitment tattoos to get with your partner. Ultimately, finding the right design comes down to choosing symbols, images, and words that best reflect what makes your relationship special.
A commitment tattoo can be something you get in addition to or in place of an engagement ring if you're tying the knot — or it can be a way to demonstrate your everlasting promise to love each other if you don't believe in marriage. When starting to plan your commitment tattoos, a great place to start is to think about your shared interests and passions, or song lyrics, quotes, and poetry that holds special significance to you. Even a specific date or location that's meaningful to your relationship can be incorporated into the design.
While choosing the perfect design is obviously a super personal process, sometimes it helps to get an idea of the vast range of possibilities for commitment tattoos. From minimalist, simplistic designs to more elaborate masterpieces, here's some ink inspiration to get the ball rolling.