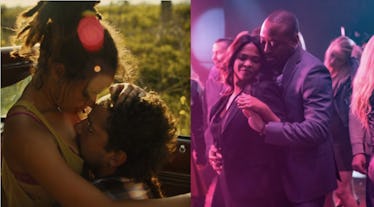 16 Steamy Netflix Choices For Date Night That'll Get You In The Mood
Universal Pictures, Hybrid Films/Netflix
When QT with your boo means Netflix and chill time, the first step is to consider what vibe you're aiming for. After all, the streaming service has something for every mood — whether you want to be riveted by a psychological thriller or snuggling and swooning over a sweet rom-com. Another category that Netflix is crushing it on? Sexy flicks that will get your heart racing, your palms sweating, and your mind heading straight for the gutter. There are so many things to watch on Netflix for date night that will instantly turn up the heat. And no, I'm not just talking about the ultra-controversial 365 Days.
In case you need a little motivation to add one of these super sultry films to your queue, consider this: Watching something hot together may lead you to indulge in a little sexy time after it's over (or, you know, to press pause and get after it if you're too turned on to wait). Not only that, but the characters on-screen may offer up some inspiration you can use IRL in the bedroom. The point is, humans are very visual creatures, and there's nothing like watching a steamy scene to get you in the mood.
Whether you're on the hunt for an erotic thriller with plenty of twists and turns or an endearing foreign film packed with jaw-dropping sex scenes, here are some films you and your SO will definitely want to scope out together. The only question is, will you make it to the end before tearing each other's clothes off?