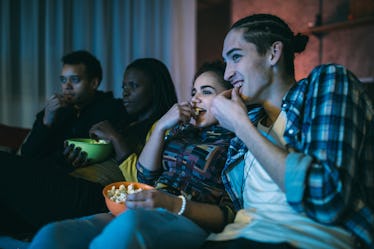 10 Underrated Rom-Coms To Watch With Your Partner
Chances are that you've already watched The Notebook once or twice (or 100 times). You've probably already ugly-cried while watching Call Me By Your Name and swooned over To All the Boys I've Loved Before, too. And while these movies will never stop being the perfect pairing to a pint of Ben & Jerry's, I think it's high time you and your boo to give some new love-filled flicks a try. If you're in need of some underrated romance movies to watch with your partner on your next date night, then I have some recommendations that deserve all of the heart-eyes emojis.
Romance and representation don't always tend to go hand-in-hand in Hollywood, but in the past decade, romantic comedies have made great strides in diversifying the love stories portrayed. Though I'd be lying if I said I hadn't fallen prey to a Hallmark movie or two, every love story is beautiful, and love stories of all kinds deserved to be shared. Not sure what to stream for this Friday night's takeout food and cuddle sesh? From gorgeous period romances to total tearjerkers, here are some of the best (and some of the most criminally underrated) romance movies from the past decade.