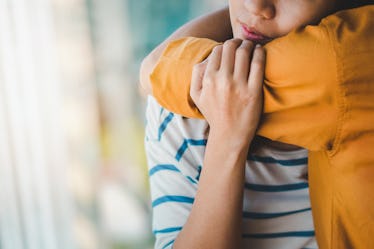 15 College Seniors Share How The Coronavirus Has Impacted Their Love Lives
Shutterstock
The coronavirus outbreak has quickly changed nearly every facet of American life. As colleges across the country have temporarily closed, moved classes online, and shut dorm doors to residents, many students have been left in a lurch. This experience has been particularly jarring and abrupt for college seniors; the coronavirus outbreak means they're not likely to walk at graduation or enjoy many of the senior spring perks they've been looking forward to for years.
In the midst of a global pandemic, of course, there are far more important things to worry about than dating: your health and the health of your loved ones; the doctors, nurses, grocery store employees, and delivery workers on the front lines of this crisis; the waiters, bartenders, and sales associates, and many more who have lost their jobs; the economy. While stressful, the threat of being indefinitely single or suddenly finding yourself in a long-distance relationship might not feel that pressing in the grand scheme of things.
But the irony of this pandemic is that just when we crave comfort and connection the most, it might be out of reach. The pursuit of love (or just a good time) has long been a thrilling, all-consuming, and formative part of the college experience. For seniors, the stakes feel even higher. I spoke to 15 seniors about how the coronavirus outbreak has affected their love lives. Here's what they had to say.