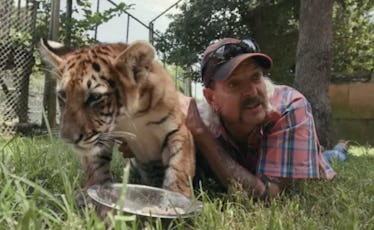 Relatable: These Celebrities Have So Many Thoughts About 'Tiger King'
Netflix
Since the hit Netflix docuseries Tiger King was released on March 20, 2020, viewers can't seem to get enough of the true crime story. Whether they love it, hate it, or are just purely fascinated by it, fans from all walks of life can't seem to hold back from expressing their feelings on series. That includes Hollywood's biggest stars too. The celebrity reactions to Tiger King prove even the most famous people are just as invested in the world of Joe Exotic and Carole Baskin as the rest of the show's fans.
A big part of the fascination surrounding Tiger King is not just the story itself, but also how enthralled everyone is with it. From friends to parents to coworkers, there has been a constant stream of commentary about the various characters and storylines depicted in the docuseries. Luckily, between hints about an additional episode coming to Netflix, rumors of a second season, the podcast the Netflix series was based on, and a scripted series in the works starring Kate McKinnon (who will play Baskin), there's certainly no shortage of ways this tale is being told, meaning fans can expect more to talk about soon enough.
Whether it's supporting Exotic, sticking up for Baskin, promoting change for tigers, or getting amped about the upcoming series, celebs are proving they're just like the rest of the world in that they have something to say about the show that's got everyone talking.