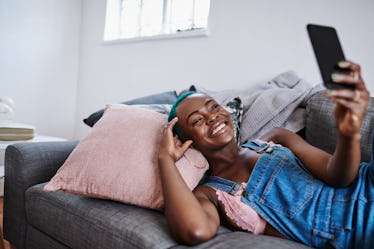 14 Q&A Ideas For Instagram Live That Will Spill The Good Vibes & Tea
LaylaBird/E+/Getty Images
Going on Instagram Live may be one of your favorite ways to pass time. Next to watching your favorite shows on Netflix and doing DIY projects that'll end up on your TikTok feed, connecting with your followers is so rewarding. So far, you may have cooked for everyone in real time and played games with your SO. Give these Q&A ideas for Instagram Live a try next, and spill the good vibes and piping hot tea.
Carve out an hour of your afternoon and talk about your crushes from high school, tell your most embarrassing stories, and dish your go-to brands for tie-dye sweatsuits and comfy clothes galore. Take this time to rant about the Game of Thrones finale, and who you think should've won the Iron Throne (TBH, you'll never get over how it actually ended.) Start conversations in the comments section over the best flavors of ice cream and places to take a #vacay.
You'll find yourself radiating with positivity by the time you're done, or feeling a little scandalous after spilling the tea. Are you ready to go live on Instagram and get right into these 14 Q&A ideas? Sweet — let's not waste another minute then.