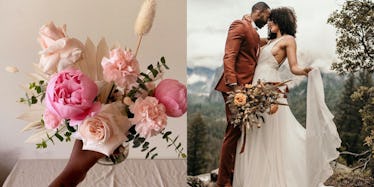 These 12 Wedding Bouquets Are So Pretty, You'll Wanna Get Married ASAP
Oat Cinnamon / Dani Rexine
From the design of your plates and silverware, to your wedding party's attire, to the weight of your invitation paper and what jewelry will complement your hair, there are so many wedding aesthetic details to take care of. Looking at photos of wedding bouquets, however, can remind you that the open-ended questions these details present can actually leave room for so much creativity.
Your bouquet, like the other visual deets, will probably complement your wedding's vibe. For example, will you say your wedding vows nestled in a wooded backyard in New England? Are you going for a quirky, hipster wedding? Or a ceremony that's beautifully modern? Your wedding aesthetic or theme will likely dictate the wedding bouquet shapes and color palette.
Some other things to keep in mind when planning your wedding bouquet:
And of course, whether it's a handmade on a pinboard, a collaged page in your journal, or done digitally, a wedding aesthetic moodboard is key. Here are 12 bookmark-worthy bouquets that are def worth saving — probably to the wedding inspo Instagram collection you've recently started.