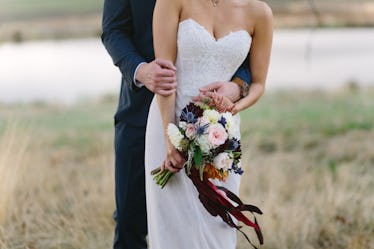 14 Brides Reveal Their Biggest Regrets About Wedding-Planning
I'm going to be real with you: As magical as weddings are, the wedding-planning process is anything but. It starts with the guest list, where you have to decide which of friends are "real" friends (and fight with your parents over which extended relatives you have to include). Then there's the budget discussion, which is always awkward, because, well, money. And finally, the real fun living hell begins. OK, maybe that's an exaggeration. But just know, brides-to-be: You're probably going to have at least a few wedding-planning regrets, and that's OK.
I had a very "trendy" wedding. Already I imagine my future children asking me why in the world I got married in a barn. Though I don't have any regrets now, who knows what I might think in 20 years? During the wedding-planning process, everything you choose seems to make sense. But when all is said and done, chances are that a few of your choices will make you say, "What was I thinking?" Former brides took to the Reddit AskWomen thread about wedding-planning regrets, and I've rounded up stories from them (as well as from my own friends) that will assure you that every former bride has a regret or two.