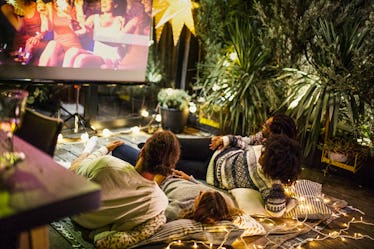 12 Unique Instas To Take During Your Outdoor Movie Date Night
M_a_y_a/E+/Getty Images
There's something truly adventurous about setting up a movie projector in your backyard and displaying one of your favorite films. Maybe all of the TikTok videos of couples tossing down blankets, pillows, and snacks to a dreamy tune has made this experience seem extra epic. But, if your SO proposes the idea, you certainly shouldn't turn it down. Instead, you should take notes on those videos, set up your own cozy theater, and recreate these unique Instagram ideas for outdoor movie date night pics with your partner.
Although it may take a little effort to perfectly position your tripod and lay out just the right comforter in the most IG-worthy way, it'll be worth it, as well as a memorable part of your date night. You'll get to work together with your partner to create a romantic space, and giggle as they try to toss a piece of popcorn into your mouth. After capturing these pictures, you can then snuggle up under those blankets and recite famous lines, such as, "Avengers, assemble!" from Avengers: Endgame.
As the movie plays, notifications will rack up on your phone for likes and comments you're receiving on IG — which you will enjoy later when the credits are rolling and the stars are bright. Here are those ideas you can recreate for outdoor movie pics with your partner.