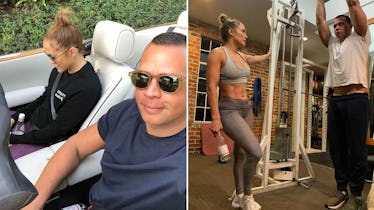 All The Times Jennifer Lopez & Alex Rodriguez Worked Out Together & Made Your Heart Burst
A couple of months ago, I came across an Instagram video of a couple working out together. These two weren't just exercising beside each other, though; they were helping each other. He would squat with her on his shoulders, and then he would help hold her ankles while she did sit-ups, and it was hard to deny how cute it was. But as adorable as that couple was, the times Jennifer Lopez and Alex Rodriguez worked out together take the cake for adorable couple workouts. I'm so here for this power couple, especially when that power means taking over the world, raising adorable kids, and getting stronger physically.
Although both J. Lo and A. Rod post individual workout photos and videos on social media pretty regularly, they've also shared a number of moments together. One of the classes they bond over is their mutual love of high-intensity hot yoga classes at a studio called TruFusion, but it seems like whatever kind of exercise this couple tries their hand at together, they have so much fun doing it.
If your partner is reluctant to work out with you, try showing them this super cute list of J. Lo and A. Rod's best workout moments, and who knows — maybe they'll come around, especially if you promise to take a cute pic to commemorate the time spent together.