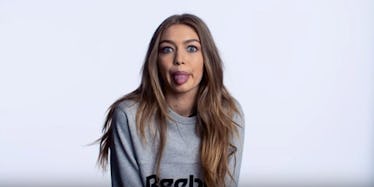 Gigi Hadid Is Surprisingly Relatable When It Comes To Her Workout Routine
Gigi, Gigi, Gigi, can't you see, sometimes your super easy workout routine is surprisingly relatable to me!
Model Gigi Hadid is great at a lot of things, but one thing she excels at better than most is her ability to make everything look so effortless and easy.
Whether it's walking the runway at the Victoria's Secret Fashion Show in Paris with her sister, Bella Hadid, or teaming up to create a dope fashion line with Tommy Hilfiger, Gigi Hadid can truly do it all.
On top of her modeling and her fashion flare, Gigi Hadid is also currently involved in a fitness partnership with Reebok for its #PerfectNever campaign.
In the latest video she produced with Reebok, the 21-year-old Hadid played a game of "this or that," talked about fitness and said she prefers sneakers over high heels.
MVP?
Let's focus on the fitness part, though, because in the minute-long clip, Gigi Hadid somewhat revealed the workout she uses to keep her perfectly toned body in great shape, and, as you're about to hear, it's surprisingly relatable!
It sounds like Hadid is quite the fan of doing yoga. Speaking in the video above, the 21-year-old said,
I'm a horrible dancer, so I'm just going to give you some yoga vibes.
In addition to revealing she dabbles in yoga, Gigi Hadid also confirmed she would rather do a burpee than a wall ball, and she's really, really big on "stretching."
Hadid said she likes to stretch before and after sweating/working out.
As far as whether she's into the personal trainer scene, Hadid said she preferred to do a "workout class with friends."
Stars! They're just like us, right?
You'll also be happy to learn Gigi Hadid prefers running outside instead of being stuck on a treadmill. She said,
Running free. Don't put me on a treadmill, please.
I would never dream of it, Gigi!
Citations: Gigi Hadid Reveals Workout Preferences in New Reebok Video (Teen Vogue)