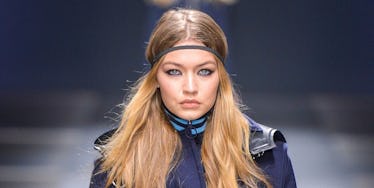 Gigi Hadid Is A Badass Yelling Orders At Sexy Men In Her New Campaign Video
REX/Shutterstock
Gigi Hadid is many things: model, celebrity... and now, captain.
The model is featured in a new Tommy Hilfiger campaign calling the shots like a total badass. Here she is in the ad, literally walking all over her underlings.
The campaign, if anything, further proves a couple of things. First is the fact that Gigi will look good in whatever she puts on, even if it's a military get-up with some not-so-impressive boots and her hair covered in a cap.
Second, only she could make a commander-like role so playful. God bless her heart.
Third, and probably most important to her bank account, the woman is clearly busy this summer. Between this Tommy campaign and gracing the cover of Vogue, it won't be any surprise if she pulls off another big move in the next few weeks.
And then there's that other thing that doesn't need to be stated but will nonetheless. Yeah, uh, Gigi's super hot.
So, in an election season during which our founding fathers will be unnecessarily invoked, I think it's safe to say that we hold these truths to be self-evident: all Hadids are not created equal.
(They're goddesses.)