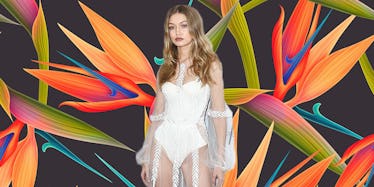 Gigi Hadid Shot Her First US Vogue Cover, And The Photos Are Gorgeous
REX/Shutterstock
Gigi Hadid is on the cover of Vogue's August issue, which is her first American Vogue cover shoot.
For the edition, the 21-year-old model sported this season's best performance looks alongside Olympic decathlete Ashton Eaton.
The two looked amazing (are you even surprised?) and actually have a lot in common. Gigi's father was an Olympic skier, and she even had dreams of joining the Olympics, as well.
They also both think of Santa Barbara, which is where the shoot was held, as home. Gigi grew up there, and Ashton trains there for a few months each year, so it was especially meaningful for both stars to be there.
Gigi Hadid discussed the experience in her latest Instagram and posted a pic of her first American Vogue cover.
Are you crying? Because I'm crying. This is so emotional and beautiful, and I can't even handle it.
Gigi has posed for Vogue all over the world, like Paris...
Italy...
...and the Netherlands.
But this is her first time reppin' the USA.
Here are a few more shots from the Vogue shoot. Gigi Hadid seriously looks stunning.
And Ashton, you don't look too bad yourself.
Oh, there's also some behind-the-scenes footage, so you should definitely check this out.
Congrats on your first American Vogue cover, Gigi!
Citations: Gigi Hadid August Cover (Vogue)