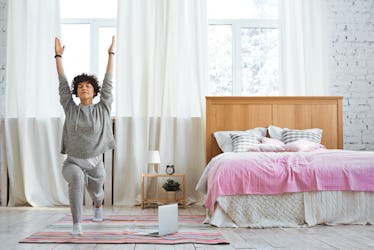 6 Workouts To Do When You're Bored & Cooped Up In The House During A Snow Storm
As of today, Jan. 4, 2018, we are in the midst of a winter storm called a "bomb cyclone" here on the east coast, and that means almost everything is closed, and nearly all of us are stuck inside for the day. While most people enjoy the occasional snow day, the weather can make it impossible to go about your daily routine, and before you know it, you're bored to tears with nothing to do but stare at the clock and scroll through Twitter (again). But worry not, because there are so many workouts you can do when you're bored and itching to do something with all your pent-up energy.
When you spend a whole day indoors, particularly if you're stuck there because of something like snow, it's all too easy to succumb to boredom and feel like you're slowly losing your mind. This can be especially tough for anyone who already struggles with mental health issues like anxiety or depression, which is why it's so important to plan ahead with some positive, feel-good activities you can do when you're stuck inside all day long.
Hey, if nothing else, doing these workouts will be an easy way to kill some time during a long, dragging snow day. Let's face it, you're not actually going to use all that free time to go outside and play in the snow. It's too freaking cold out, and these workouts are the perfect way to warm up.