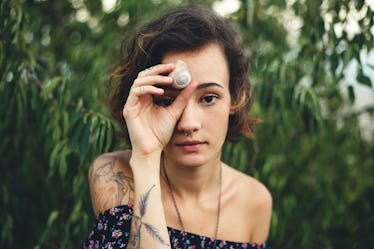 11 Minimalistic Tattoo Ideas You'll Love If You're Obsessed With The Zodiac
Lucas Ottone/Stocksy
So, you need some ink inspiration? If you're obsessed with the stars and everything astrology related, then you should know that there's a galaxy full of tattoos that will surely show off your love for all things lunar. You've been following the moon phases for so long now, and blame all of your life troubles on Mercury retrograde. It's only right that you get a tat that totally pursues your passion. These minimalistic tattoo ideas will be oh-so-simple, but still express your strong feels for the zodiac. You don't have to look to the stars for all the answers on this one, just your screen.
Tattoos can be a great way of showing off the things we love. Maybe you get a slice of pizza with your bestie because you're both always craving the 'za. Or maybe you get a little sentimental and ink one of your family member's initials. They can have a whole lot of meaning, or just be a little fun and flirty. It's up to you!
Joining team tatted is honestly all about individuality. And if you're a big believer in the universe and read your horoscope on the reg, then you know that we all carry certain traits and energies. Pick a part of your personality that you love, and wear your creative side on your sleeve.
The key is to never settle for anything less than stellar. After all, you'll have it forever! These 11 ideas are all minimalistic, and will totally spark your zodiac-obsessed soul.