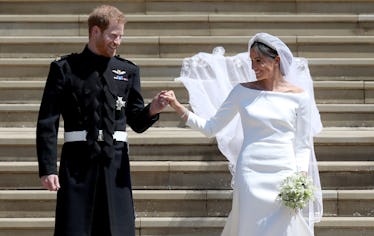 11 Major Celeb Relationship Moments That've Happened Since Harry & Meghan Said "I Do"
WPA Pool/Getty Images Entertainment/Getty Images
Time sure does fly, folks. Although it may seem like Prince Harry & Meghan Markle tied the knot just yesterday, it's actually been an entire year. The two celebrated their one-year wedding anniversary on May 19, and needless to say, a lot has happened in a year — especially in Hollywood. The celebrity relationship moments since Prince Harry and Meghan Markle got married have been abundant, to say the least, And even though my obsession with baby Archie Harrison Mountbatten-Windsor is still in full swing, for those of you who need a Royal Family break, I am here for you. In case you've forgotten about all of the other celebrity dating shenanigans that have happened since Harry and Meg said "I do," prepare yourself for a walk down memory lane. (It's hard to believe this all happened in a year.)
Since May 2018, so many celebrity couples have gotten together, broken up, and gotten back together again. And let's be real, keeping track of all of these happenings can start to feel like a full-time job. Once you add engagements and weddings to the mix, it would take a never-ending color-coded spreadsheet to keep track of everything that's gone down. And although I'd love nothing more than to draft that spreadsheet, we all know that would legit be impossible. But fret not, because the highlights are still very juicy. Here are some of the most memorable celebrity relationship moments since the royal wedding, that were too intense to forget.