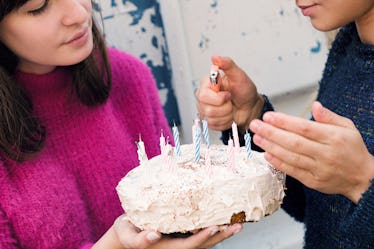 11 Birthday Text Ideas For Your Significant Other That Aren't Super Mushy-Gushy
Besides the dreaded "Happy Birthday" song, or the royalty-free version of "They're A Jolly Good Fellow" you hear on network TV, there are many ways to say HBD to your special someone. When you're in a relationship, new or old, you probably want to make your boo's next birthday the best one yet (which you totally will, because you're awesome). If you want to kick off the celebration right when you wake up, birthday text ideas for your boyfriend or girlfriend, are a cute way to get the party started.
From Birthday Divas to the I do not tell anyone when it's my birthday people, there are lots of ways that people handle getting another year older. If your boo isn't really into their birthday, a simple text can be a nice way to show them you care without giving them too much unwanted attention. If you are dating a fire sign, a B-Day Queen crown wearer, or someone who wants the world to sing their name, sending more than a "HBD" may be greatly appreciated (even expected).
If your boo's B-Day is coming up, here are 11 ways to text happy birthday to your boo without sounding super cheesy.