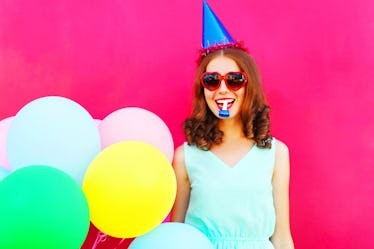 15 Funny Birthday Memes That Are So Accurate, They Take The Cake
Out of all the holidays, I would have to say my favorite is my birthday. (Yes, I consider my day of birth a national holiday that should be celebrated by all.) I know I'm not the only one who feels this way. Birthdays are meant to be recognized to the fullest — and that means it's totally acceptable to celebrate your way through your entire birth month. And when the big day finally does arrive, you'll get a kick out of all the funny birthday memes your friends will inevitably send you.
There really is nothing better than having your friends reach out and wish you a happy birthday. It shows that they care, and makes you feel so warm and fuzzy inside. Where a simple "happy birthday" is nice enough, you also love receiving something that makes you smile, like any of these 15 birthday memes. They perfectly capture all the feels you experience when you have the whole restaurant singing to you, and the frustrations of having to go into work on your big day.
Birthdays are universal. Everyone has one, so not only will your birthday-loving self adore these memes, but your friends will also find themselves giggling when they see them. You could even say memes are the birthday gifts that keep on giving.