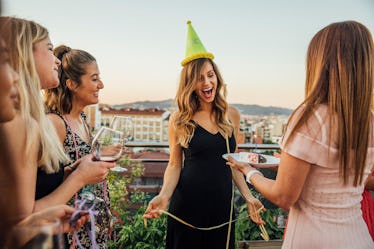 35 Cute Captions For Your Birthday, Because You're Another Year More Fabulous
Another birthday means you're another year more fabulous, queen. You've grown, you've learned, and you're ready to celebrate everything you've accomplished in the past year. A birthday is the ultimate cause for celebration (and some much-needed confetti cake with extra buttercream frosting, please). You likely plan on popping the champagne with your crew of besties (if you're 21 or over), and going all out this year. It's time to make memories that'll be forever documented on your Instagram feed, which means you'll need some cute Instagram captions for your birthday festivities.
Your birthday is the perfect opportunity to enjoy and celebrate all of your successes, and spend time with your closest family and friends. So, what are you waiting for? It's time to break out that new sequined top and embrace the birthday bash of the year (but keep in mind you still have to outdo yourself next year). Snap lots of pictures, and be sure take it all in. As Eleanor Roosevelt once said, "Today is the oldest you've ever been and the youngest you'll ever be again."
1. "... The older you get, the better you get. Unless you're a banana." — Betty White
2. "Growing old is mandatory, but growing up is optional." — Walt Disney
3. "I don't get older, I level up." — Unknown
4. "Life should not only be lived, it should be celebrated." — Osho
5. "Sassy since birth." — Unknown
6. "Go shorty, it's your birthday." — 50 Cent, "In Da Club"
7. "Happy Birthday. May your Facebook be filled with messages from people you never talk to." — Unknown
8. "Too glam to give a damn." — Unknown
9. "It is scientifically proven that people who have more birthdays live longer." — Someecards
10. "I'm not getting older. I'm getting better." — Unknown
11. "Birthdays are nature's way of telling you to eat more cake." — Jo Brand
12. "Today is the oldest you've ever been and the youngest you'll ever be again."— Eleanor Roosevelt
13. "Age is merely the number of years the world has been enjoying you." — Unknown
14. "Today you are you, that is truer than true. There is no one alive who is youer than you." — Dr. Seuss
15. "Inside every older person is a younger person wondering what the hell happened." — Cora Harvey Armstrong
16. "Life is short. Make every hair flip count." — Unknown
17. "On this day, a queen was born." — Unknown
18. "Make them stop and stare." — Unknown
19. "Gonna party like it's my birthday... 'cause it is." — Unknown
20. "It's my party, and I'll cry if I want to." — Lesley Gore, "It's My Party"
21. "Hope your birthday is a piece of cake." — Unknown
22. "Old enough to know better. Young enough to get away with it." — Unknown
23. "Eating my cake and wearing it, too." — Unknown
24. "Birthdays are good for you. The more you have, the longer you live." — Unknown
25. "Turn my birthday into a lifestyle." — Drake, "Pop Style"
26. "Some girls are just born with glitter in their veins." — Unknown
27. "Time to drink champagne and dance on the tables." — Unknown
28. "Rise and sparkle." — Unknown
29. "I woke up like this." — Beyoncé, "Flawless"
30. "I'm just a whole year more incredible." — Unknown
31. "Having a grate birthday. This was the cheesiest caption I could find." — Unknown
32. "I'm happy to report that my inner child is still ageless." — James Broughton
33. "Birthday candles aren't the only things getting lit this weekend." — Unknown
34. "The party don't start till I walk in." — Kesha, "TiK ToK"
35. "Don't ever be afraid to shine." — Unknown