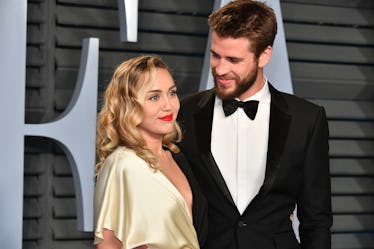 Liam Hemsworth Gushed About Miley Cyrus As His "Sweet Girl" In A Touching Birthday Post
Dia Dipasupil/Getty Images Entertainment/Getty Images
Musician and actress Miley Cyrus just rang in Sagittarius season by celebrating her 26th birthday on Friday, Nov. 23. Cyrus wasn't alone in her celebrations, and Liam Hemsworth's birthday message to Miley on Instagram showed that the celeb was surrounded by loved ones on her special day. Hemsworth didn't phone in the post for his longtime girlfriend's big day, either. His short but sweet caption was a heartfelt tribute to Miley on her birthday.
Hemsworth's photo posted on Friday, Nov. 23 showed a cheerful Miley holding one of her adorable pups under a colorful archway of balloons and a duo of pink balloons that read, "26." Hemsworth's caption read,
Happy birthday to my sweet girl. You're more precious than ever. So thankful to have you in my life. ❤️
Over the past two years, Hemsworth's Instagram has heavily featured his "sweet girl" with adorable selfies, images from professional photoshoots, snaps with their pups, posts promoting his famous fiancees albums and work, and even some PDA. One of my personal favorite posts is a picture of Cyrus from November 2017 captioned "Christmas angel," where she poses in front of some twinkling lights.
But his touching birthday post tops them all:
If you've been following this longtime couple, then you know that they've had an on-again, off-again relationship since 2010. Per Cosmopolitan, the two got engaged in 2012 after dating for two years, but broke it off in 2013. After public sightings and rumors, it was confirmed that the two got back together in 2016. The same year, Miley confirmed that they two were engaged (again)! Since then, the couple has been keeping a low profile, which is understandable given the heavy coverage of their ever-changing relationship status.
Though Cyrus is smiling in the picture of her birthday Instagram tribute from Hemsworth, the birthday celebrations are coming at the end of a rough season for the couple. Less than two weeks ago, Hemsworth and Cyrus' home was burned down in the Woolsey Fire that spread in Los Angeles and Ventura County, impacting countless California residents. In fact, a little over a week before wishing his fiancee a happy birthday, Hemsworth posted a long message on Instagram describing the devastating impacts of the fire on his home and homes all over Los Angeles, and he also thanked the "hero firefighters of California." On Nov. 12, Cyrus sent out a tweet sharing that the fire had destroyed the couple's home.
In his birthday message for his daughter on Instagram, Billy Ray Cyrus also alluded to the devastation caused by recent events in his family's life. He wrote: "Thankful for this moment. My thoughts and prayers with so many hearts that need mended. Peace and love to all."
Miley's mom Tish Cyrus also posted a heartfelt message on her Instagram, thanking Hemsworth for getting all the "furry babies" out safe and expressing gratitude for the Los Angeles Fire Department. In her emotional post, she wrote:
LOVE lives here and always will... California has been through so much this week and I feel more thankful than ever ... thankful for the community of Malibu for standing stronger together and praying for those who lost far more than things that can be replaced. Words cannot describe my gratitude for the @losangelesfiredepartment and for the sacrifices they make for the safety of others every single day.
Thankfully, the family is safe and sound and Cyrus got to ring in her 26th surrounded by loved ones.