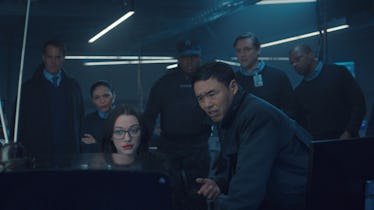 10 'WandaVision' Behind-The-Scenes Facts That'll Make Your Next Rewatch Magical
Marvel
Nothing has spawned fan theories and memes in recent streaming history like WandaVision. But the series isn't just fascinating for its onscreen action; everything that went down behind the scenes is equally enthralling. Case in point: these WandaVision behind-the-scenes facts about how Marvel made the show, plus some of the ideas that didn't make it into the final product.
Considering how perfectly timed WandaVision's story of grief and coming to terms with a global catastrophe was (it ended just before the one-year mark of the U.S. shutdowns due to the coronavirus pandemic), it's hard to imagine it wasn't planned that way. But WandaVision wasn't supposed to be the first Marvel series to premiere on Disney+. (That was Falcon & the Winter Soldier, whose premiere was pushed to March 19.) Nor was this supposed to be the opening to Marvel's Phase 4. (That was supposed to be Black Widow, now arriving in May.)
But those external changes weren't the only ones the show underwent over the process of filming. WandaVision's stories of what went on behind the scenes could make up an entire episode, from changing which shows it parodied to cutting entire subplots. Perhaps that's why Disney+ has produced the documentary, Assembled: The Making of WandaVision.
Let's round up some of the biggest reveals from behind the scenes of WandaVision: