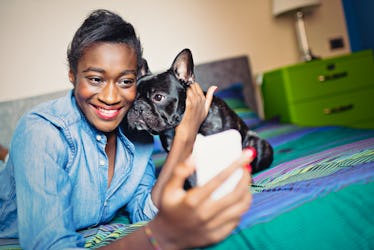 10 TikTok Challenges To Do With Your Pup That Are Totally Fetch
LaraBelova/E+/Getty Images
When you're bored at home or have a free afternoon, your first thought may be, "What's my dog up to?" Odds are, they're probably hanging out in the sun, taking a nap, or looking for you to play a game of fetch. They would probably love it if you walked up to them and said, "Want to do something fun?" Their tail would start wagging at the idea of recording videos together with the best TikTok dog sounds and posting them for the entire world to see.
In return, you'd have heart eyes watching your dog pose for the camera and conquer different challenges that are trending on the Internet right now. You'd giggle at the sight of them in a pair of sunglasses, or chilling on your kitchen counter for the first time, knowing well they shouldn't technically be there. Whenever you would FaceTime your besties after the fact, you'd want to show them the tricks your pup learned that day, including the move where they sprint toward you and place their face right in between your fingers.
Just thinking about these challenges and the sounds that go with them is enough to make you want to roll out of bed and get recording. These are the 10 TikTok dog sounds and challenges you should try first. To say the least, they're totally fetch.