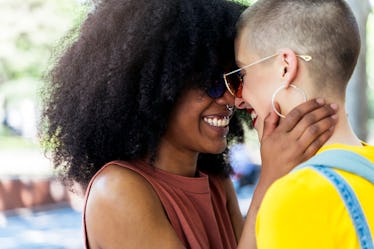 10 Texts To Send When You're Away From Your Partner For The Summer
Summers in college used to make me a little sad. I had a boyfriend for most of it, and summers were our time apart. I'd leave campus excited for my summer adventures, but worried I wouldn't hear from him for weeks, and I feared we'd grow apart. As much as I loved the break from classes, I didn't love the break from him. Fortunately, there are all sorts of ways to stay in touch with a partner when you're apart, so I compiled some texts to send when you're away from your partner this summer. After all, absence makes the heart grow fonder (a phrase that was undoubtedly coined after drinking Gatorade while parched).
You might be away from your partner this summer because one or both of you are traveling, or because you're interning in different cities, or really any reason. Your relationship doesn't have to suffer just because of the distance between you. After all, the last thing you want is to finally get a vacation and then spend the whole time wondering if your partner misses you. (Don't worry. They do.) Whenever you find yourself wanting to reach out to your partner, send them one of these fun, flirty, summery texts to keep the spark going, even when you're not in the same place.