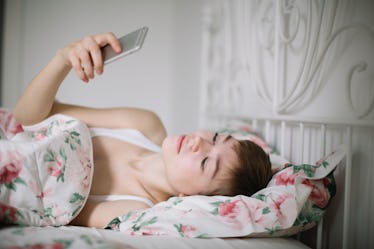 9 Sweet & Sentimental Texts To Send Your Partner When You Really Miss Them
If absence makes the heart grow fonder, then time away from your bae could make your text game stronger. Whether you're in a long-distance relationship, on vacation, or simply live across town from your partner, sometimes you just miss them to bits and wanna let them know. Sure, you could text and ask what they're up to and that's probably going to be nice for them to see. But here are a few fun ideas of texts to send when you miss your boyfriend or girlfriend that go beyond your usual "miss you" message.
Communication in relationships is key and texting with your bae all day, every day can help keep you two close. Of course, texting can be open to interpretation, since it lacks the nuance of delivery of face-to-face interaction. When you're away from your boyfriend or girlfriend, sometimes missing them can make you feel many different emotions — disconnected, lonely, or even upset with your partner.
Reaching out via text to touch base is a great idea, and it's a good idea to be mindful of messages that could be misinterpreted as you being upset with them or unsure emotionally. Sometimes a "wish you were here" text can read as passive-aggressive if you're sending it from your BFF's birthday party while your partner is stuck at work. So here are some clear, positive, and heartfelt messages that will hopefully make you feel close to your honey, even though they're far away.