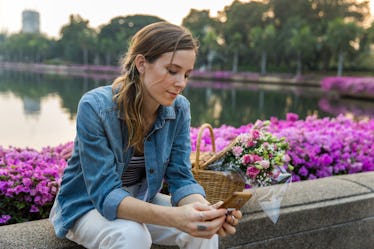 3 Romantic Texts To Send Your Ex If You Want To Rekindle The Relationship
Here's the thing — you've taken some time apart to focus on yourself, you've done plenty of reflecting on your relationship and what went wrong, and there's no denying it anymore: you want your ex back. One of the most obvious ways to go about achieving this is to pick up your phone, but before you go nonchalantly typing away, you'll want to carefully consider the most romantic texts to send your ex. Sure, you could fire off a simple "I miss you," or "I made a mistake," but the reality is, that's probably not going to cut it — not if you're going for a grand gesture that will win them over again, that is.
While there are certainly situations in which you should not get back together with an ex (like, if the relationship was toxic, or if you broke up a week ago), there are also conditions under which it may be worth exploring. The most important thing to consider is: What's changed since the breakup that might make your relationship work this time around? Once you've done some thinking on that front, then you can start carefully crafting a message that will reconnect the two of you.
Let's be clear: One single text in itself won't rekindle the relationship — but it does have the power to get the ball rolling. As a general rule, this text should be relatively short, easy to respond to, and somewhat sentimental. Here are a few ideas for what to say if you want to re-ignite the romance.