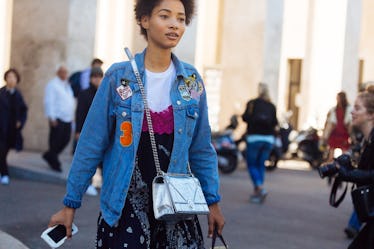 These Cool Patches On Etsy Will Give Your Denim A Fresh Upgrade
Melodie Jeng/Getty Images Entertainment/Getty Images
Looking through your closet, you've decided it's time to give your clothes a revamp. A new season deserves a fresh new look and vibe, so it's time to get some patches for jeans on Etsy and give your denim a fun upgrade. It's actually quite easy to give new life to old jeans you've been wearing non-stop. All you need to do is iron on a few adorable patches, and it's like they're brand new. You can even jazz up your go-to denim jacket to give it character and color.
That's what's so great about patches. They have the ability to let you add your own personality to your clothes and make them totally unique. You can choose patches with your favorite quotes on them, or choose something from your fave cartoon that'll bring on the nostalgia. There are even sequined patches if you want to shine bright, or you can go for something subtle like adding a few small flowers here and there.
Think of your denim as a blank canvas and any of these 10 patches from Etsy are your tools to work with. With some patches, an iron, and your creativity, you can transform your fave pair of jeans into something that's totally Instagram-worthy.