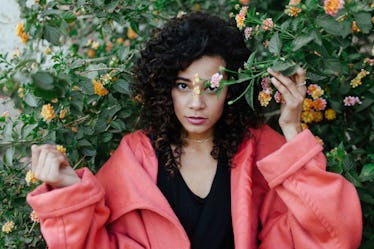 45 Floral Puns For Your Spring Captions, Because "April Showers Bring May Flowers"
April showers are bringing May flowers, and I hope you accept every rose that comes your way. You've put away your bulkiest coats, and pulled out the swimsuits and pastel sundresses you'll break out for every beach day. Thank goodness we're on our way to the warmer months, because our selfies deserve some sunshine. These floral puns for Instagram will have your feed blooming, and will undoubtedly bring the best of spring to your followers.
Seriously, that floral feeling is one that needs to be showcased on our feeds. Our followers are scrolling through their social media and looking for some inspiration. They need to know the latest trends, and which sandals you're so excited to wear now that it's warm. Posting a picture of flowers here and there will surely bring your Instagram to the next level, and will get you all the likes.
There's always a pun to pair with your post, and your garden is already blooming, so you'll want to be prepared. As Meryl Streep says in The Devil Wears Prada, "Florals, for spring? Groundbreaking." Yes, posing with some tulips in your oversized tote, and taking selfies in pastel places around the globe might come across as a little cliché, but you're in a blooming kind of mood, so who cares? Pick one of these 46 cute captions along with those flowers for a pretty picture-perfect feed.
For you and your besties:
1. "Last bud not least."
2. "Life would succ without you."
3. "What's up, buttercup?"
4. "Aloe you vera much."
5. "You're my best bud."
6. "Orange you glad we're best friends?"
7. "I be-leaf in you."
8. "I'll never desert you."
9. "Long thyme, no see!"
10. "Always rooting for you."
11. "Plants are my buds."
For you and your significant other:
12. "Not a daisy goes by that I don't think of you."
13. "We were mint to be."
14. "I love you bunches."
15. "I think you're dandy, and I'm not lion!"
16. "My love for you blossoms every day."
17. "Wildflower about you."
18. "Plant one on me."
19. "Ay poppy!"
20. "Let's put our tulips together."
21. "I hate when bay leaves."
For your salty and sarcastic posts:
22. "Ain't nobody got thyme for that."
23. "What in carnation?"
24. "Don't kale my vibe."
25. "Leaf me alone."
26. "Read my tulips."
27. "Get clover it."
28. "Say it ain't cilantro."
29. "Daisy me rollin'."
30. "Oopsie daisy."
31. "Give it time. I'll grow on you."
For something sweet and simple:
32. "Bee kind."
33. "Just peachy."
34. "Live life in full bloom."
35. "That floral feeling."
36. "Let the good thymes roll."
37. "Thanks a bunch!"
38. "Eat, drink, and be rosemary."
39. "Spring has sprung."
40. "Petal to the metal."
41. "Oh kale yeah."
42. "Party thyme."
43. "You are so berry cute."
44. "Here comes the sunflowers."
45. "You had me at hydrangea."
Did you find a pun that got you in that floral feeling? Soon enough, summer will be here and you'll be captioning your posts of ice cream cones and dreamy vacations in the Caribbean. So, making the most of these pretty-in-pink moments is key. Don't get greedy with your garden, and share all the sweetness on social media so that your followers can stop for the roses, too.
This post was originally published on Apr. 20, 2018. It was updated on Sept. 23, 2019.