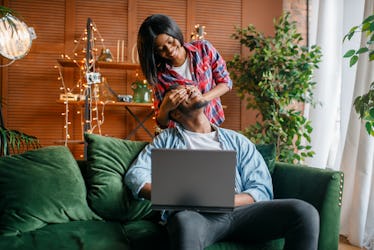 10 Holiday Traditions To Start With Your Partner When You Move In Together
Shutterstock
Moving in with your partner can be a really amazing milestone. After a lot of packing and unpacking, you get to share a space and a lot of "firsts" together. For example, you get to cook dinner as a couple and decorate for the holidays. There are also many holiday traditions to start with your partner that you can participate in once you have the same set of keys.
These are the cuddly nights watching movies like The Holiday and Just Friends, and the Saturday afternoons spent listening to Ariana Grande's Christmas & Chill album. They're the moments you've dreamed about since you two started dating, and thought about what it would be like to wake up next to each other on a snow day. Back then, you imagined you'd stay in pajamas all day long and bake cookies shaped like snowmen.
Now, you get to turn those daydreams into a reality and start all kinds of sweet traditions with your bae. Maybe you'll put together a gingerbread house for your kitchen, or drink hot cocoa out of matching mugs. Either way, it'll be straight-up adorable, especially since you're living together. Here are 10 traditions you can consider starting right now, and continue forever.