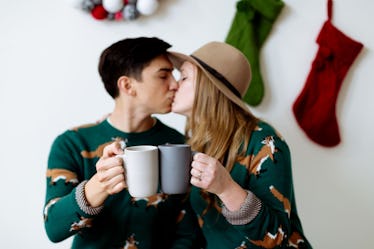 7 Christmas Card Ideas For Couples That Don't Totally Suck
Being in a relationship during the holiday season is kind of the best thing ever, am I right? You have someone to buy a present for, someone to cozy up with when it gets cold AF, and someone to do all your favorite festive things with. If you and your bae are serious enough to send out a card out to your friends and family this year, you're probably thinking about Christmas card ideas for couples.
Should your Christmas card be a little extra or lean more to the basic side? Maybe all you care about is making sure your card isn't fa-la-la-la-lame. An annual holiday card can be the perfect opportunity to let your sense of humor shine or to let everyone know just how much of a power couple you are. Will your announcement be anywhere near as epic as the annual Kardashian Christmas card or Taylor Swift's snake-themed holiday card last year? Probably not, but that doesn't mean you can't send out a killer card anyway.
What do you and your boo want your holiday card to look like this year? If you can't decide or just need a little inspo, I've got your back. Here are seven Christmas card ideas for couples that don't totally suck.