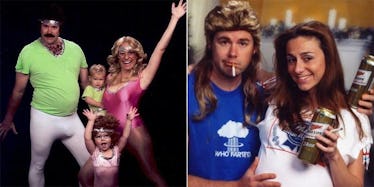 This Couple's Christmas Cards Are So Awkward, They're Actually Amazing (Photos)
This couple is SLEIGHing it with their Christmas card game. #NailedIt
Christmas cards mostly suck.
They're all the same combination of matching sweaters, a mantle, one baby who will not stop crying, a bunch of forced smiles and uninspired text that says, "Happy Ho-Ho-Holidays from *insert Christian names here.*"
Aside from photos where kids sit calmly while smiling and wearing bow ties and bar mitzvah pictures where the father is helping the son read from the Torah, Christmas card photos are the least imaginative photos one can take.
That's probably why you can see the shadow of dead dreams when you look into the eyes of any mall photographer.
This couple is above that ho-ho-horrible tradition, though, and the pair deserves some sort of standing ovation for their yearly Christmas cards.
These photos are all both holly AND jolly.
The series uploaded to Imgur features 12 years of the couple's cards.
Seriously, you should burn every holiday card you've ever received if the cards didn't look like these.
Christmas ham in a microwave and eggnog that is just half and half with vodka, there's nothing like a redneck Christmas.
SLEIGH, QUEENS, YASSSSS.
Citations: Couple Take The Most Awkward Christmas Card Photo They Can Possibly Think Of Every Year (The LAD Bible)