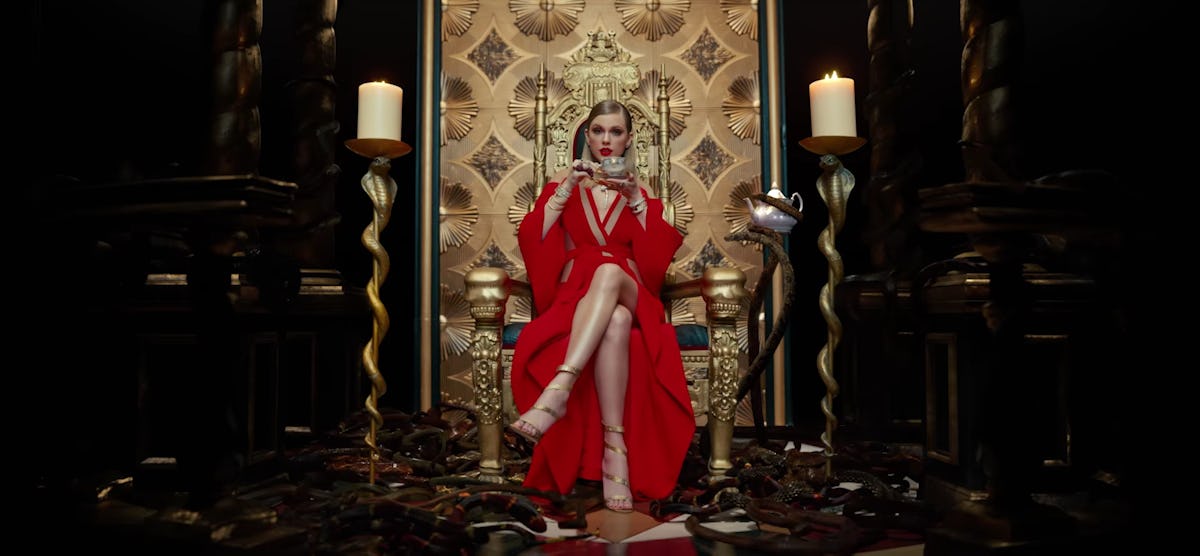 Taylor Swift Sent Out Snake-Themed Christmas Cards, Because Of Course She Did
Whether you enjoyed this past year or not, 2017 is almost over. There was definitely some good to come out of it, like the return of Taylor Swift with her new album, Reputation. Though, despite her attempts to steer away from the spotlight, her feuds with Katy Perry, Kanye West, and Kim Kardashian have kept most, if not all eyes on her. The only thing that has changed is that the old Taylor is "dead," and the new Taylor has a reputation, and it's all about snakes. So, it only makes sense that Taylor Swift's Christmas cards are snake themed this year.
By now, most of us have heard all about the story of the infamous Kim Kardashian Snapchat video, which showed Taylor Swift on the phone with Kanye West discussing his controversial song "Famous." The video ignited the feud that Swift now has with Kimye. It's all pretty well-known at this point, and it basically feels like the feud that just keeps on going (it's safe to say it will definitely live on in the new year). Anyone else remember that one time Kim Kardashian called out Swift for being a snake on Twitter? Good times, y'all, good times.
Since then, despite the negativity, Swift has officially taken on the snake emoji as her own. I suppose that's one way to stop someone from calling you a snake: just be the damn snake. In fact, to prove they have her back no matter what, Swift fans took to Kim Kardashian's Instagram and Twitter, and flooded her comments with snake emojis. It even got to the point where Kim Kardashian blocked the snake emoji on her Instagram once Reputation was officially released.
So, for better or for worse, Taylor Swift is now basically synonymous with snakes.
With that in mind, it's really no surprise that the pop star sent out snake-themed Christmas cards to friends and loved ones this year.
Swift's music talent manager, Andrew Gertler, recently shared the "Look What You Made Me Do" singer's Christmas card on his Instagram story, and TBH, this looks a little extra, even for someone as constantly-on-brand as T-Swift.
Instead of something more festive, like a Santa Claus or a Christmas tree, Swift opted for snakes. The front of the card reads "Happy Holidayssss!" As slightly over the top as it is, we kind of can't help but love the snake twist to a seasonssss greetingssss.
Inside the Christmas card, Swift keeps the fun going with a message that reads, "May your reputation shine bright this holiday season!" We know that Swift is an excellent songwriter, and now we know for sure she's good at joke-writing and Christmas cards, as well. You know this card really sets itself apart from all the other festive greetings you may have received this holiday season. If her music career ever fails, at least she's got a backup there. Though, I doubt she'll need to use it soon, as she's prepping for a Reputation tour in 2018.
We can never say Swift doesn't know her own brand, and the new Reputation-era Tay is here to slay with snakes by her side. Not even Christmas goes untouched by her slithering friends. Just imagine what kind of card she would have sent out this year if Kim Kardashian had used any other animal emoji to call out Swift. We could have been looking at a snail Christmas card, or even maybe a crab one. You never know.
All we do know is that we are living in the time of Taylor Swift and her snakes. And if you put an "s" — or maybe four — at the end of a word, it sounds like a snake said it. So, we hope you had a Merry Christmassss, and a Happy New Year'ssss.