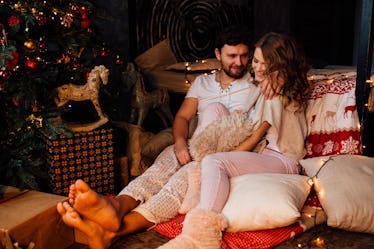 7 Matching Holiday PJs With Bae For When The Snuggle Is Real
I think we can all agree that pajamas are one of the most comfortable things in the whole world. What makes them even better? Lounging in your sweats with bae during the holiday season, where you can cuddle up by the fire and set adorable #RelationshipGoals on the 'Gram. Rocking matching Christmas pajamas for couples could never be basic, and we're here for them.
Plaid or printed, your matching pajamas are about to be the most adorable thing ever, and they'll make your candid photos especially lit. Why are the holidays so much more enjoyable when you can roll out of bed, brush your teeth (please), and head right into the festivities? It can be difficult to distinguish dreams from reality at that that point, because you'll be wearing the same wardrobe you were before you boarded the snooze train. And let's face it, the holidays are about as magical as our dreams can be.
Can we also give kudos to bae for looking unfairly handsome in pajamas? It's like they were meant to wear pajamas since they left the womb. They make pajamas look like a ginormous investment in a freshly-tailored suit. In other words, you won't even notice the decorative candy canes spread around the house, because you'll have your eye candy right by your side. Believe it or not, there are plenty of couple's pajamas for you and bae to sleigh together this season.