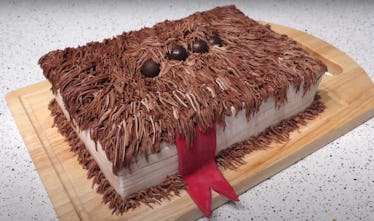 10 'Harry Potter'-Inspired Recipes For Halloween Magic In Your Own Cauldron
Let's face it: No one does Halloween better than the wizarding world of Harry Potter. What better way to spellbound the season than with nearly headless ghosts, fantastic beasts, and a castle full of magic? And let's not overlook the spooktacular sweets and treats found at Diagon Alley that you can mix up in your own cauldron, thanks to Harry Potter recipes for Halloween on YouTube.
If you're planning a mystical Harry Potter-inspired backyard party for All Hallow's Eve, you should add a few jelly slugs and dragon eggs to your menu. You can also include Harry Potter go-to recipes like butterbeer and chocolate frogs. But if you're looking to create a fangtastic vibe for a spooky gathering, don't just serve cupcakes... prepare mandrake cakes that will make any guests flying in on a broomstick squeal with delight. Serve a monster cake that any vampire friends can't wait to bite into as well.
This list of 10 Harry Potter Halloween recipes includes both savory and sweet items, so you can serve a whole feast — if you dare. Decorate your backyard with a string of candlestick lights ($46, amazon.com) to make your dessert table appear like it's in the Great Hall. Set up an outdoor movie theater so you can watch your favorite Harry Potter movie while snacking on your themed food. Whatever you decide to do, this Halloween, just make sure it's delicious and all your mischief will be managed.