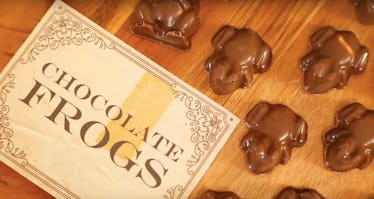 Make These Treats From 'Harry Potter' At Home & Taste Chocolate Frogs IRL
The Domestic Geek/YouTube
You've likely been wondering what the snacks in the Harry Potter series actually taste like from the moment you began reading the first book or watching Harry Potter and the Sorcerer's Stone. You likely dreamed of a day when you could taste a chocolate frog, butterbeer, or Bertie Bott's Every Flavor Beans. (Although, let's skip on the earwax-flavored ones.) Today's the day you head to your kitchen, pull out an apron, and learn how to make Harry Potter treats at home.
Believe it or not, it's possible to whip up a lot of these delicacies in the real world and bring your favorite fantasy creations to life. You simply have to follow along with a YouTube video created by a diehard fan or another kitchen wizard, and make use of tasty ingredients that may be in your cabinet already. After watching the tutorial a few times, pulling out the necessary utensils to create such treats, and cooking or baking them, you have to take picture so the entire world can see what you've done.
After all, there are a ton of other Harry Potter fans out there, and they may not know you can make cauldron cakes at home. Here are the nine tutorials you should watch, use, and then pass along to those fellow chocolate frog-loving souls.