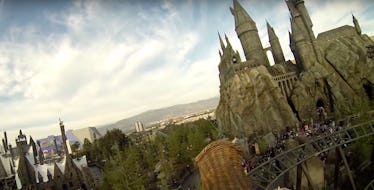 7 Virtual 'Harry Potter' Attractions That Are Straight-Up Magical
If you're a major fan of wands and wizards, and would much rather be running around The Wizarding World of Harry Potter right now, look no further than virtual Harry Potter attractions on YouTube. It may be your first instinct to text your besties in the group chat and say, "Let's go to Diagon Alley and try butterbeer as soon as we can." But, these videos will take you right into the excitement and don't require any planning or plane tickets.
With just a phone and few taps of your finger, they give you a front row seat for all of Harry Potter's latest and greatest adventures including his epic run-in with Gringotts, and close encounters with Voldemort — aka, He Who Should Not Be Named. They let you ride the winding rails, take a closer look at Hogwarts massive walls and towering towers, and make you feel like you're actually on a broomstick during a super competitive Quidditch match.
Granted, they don't let you feel the wind on your face. These attractions are brought to life in a way, though, that makes you feel like you need to watch every movie and read every book in your spare time. Here are the seven virtual Harry Potter attractions you'll really want to check out for magic and zero muggles.