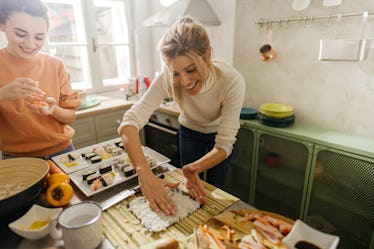 10 Easy Family Dinners To Make With Your College Collab House Roomies
AleksandarNakic/E+/Getty Images
Late-night study sessions aren't the only time you and your roomies can collaborate this semester. Get together in the kitchen to whip up some easy dinners to make with your roommates in your college collab house. Since many universities are moving to virtual classes this semester, these college collab houses have become a popular way for students to experience #dormlife with their best friends. By renting a house off-campus, this is a safe and fun way for students to "go" to class and still spend time with their friends.
It's basically like creating your own mini campus, and cooking dinner every night together can be a fun way to do some housemate bonding. Combining your skills in the kitchen, you can put together some truly Insta-worthy dishes that are way more impressive than your typical dining hall pizza. Take turns sharing family recipes or try any of these 10 easy dinner recipes from YouTube.
You can either have family dinner every night or select a special night once a week to go all out. Document the whole cooking process for the 'gram and use #collegecollabhouse on your posts. Then, dress up, set the table, and dish on your Zoom lectures and funny inside jokes over a tasty meal.