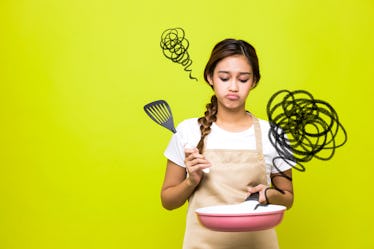 I Hate & Never Have The Time To Cook, But Swear By These 6 Easy Recipes
After a long, exhausting workday, all you really want to do is go home, kick back on the couch, and catch up on Netflix. In a perfect world, you'd snap your fingers and have a delicious plate of chicken parmesan (fresh out of the oven) waiting for as you walked in the door. But alas, one can dream. I'll admit I hate and never have the time to cook, which is why I almost always order delivery or grab takeout instead. Most of the grocery shopping I do is for quick and easy snacks, because I know that if I'm overly ambitious and buy a bunch of different ingredients, it will all go to waste.
I want to be one of those 20-somethings who has it all together, and cooks everything from the coolest cookbooks, and then showcases their masterpieces on Instagram. That's why I've vowed to try making some super easy recipes at least once a week at home. Who knows, maybe this time next year I'll be the girl who throws elaborate dinner parties for her besties. Until then, I wanted to share with you these six easy recipes that I swear by. You'll be a pro at them in just about no time.