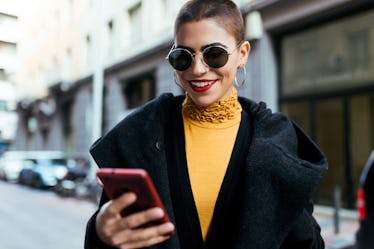 10 Clever Dating App Openers That Are So Much Better Than "Hey"
Anyone who's used a dating app knows the feeling: You swipe on someone gorgeous, and all you hope to see is "It's a match!" But without the perfect message in your inbox, all that excitement can go right down the drain. No one craves a message that reads, "Hey." There's nothing interesting in "Hey," is there? Skip the same, boring questions, and use these clever dating app openers to up your chances of a reply from your dream match.
I'm not saying, "Hey" won't get you a reply, but some of my closest friends who use dating apps religiously say they almost never reply if someone just sends that one word. It takes something a little more grabby to peak their interests. But just because my friends don't respond well to "Hey," doesn't mean that other people won't appreciate the simplicity and forwardness of it. Basically, it's an option, albeit not a great one.
If you do want to spice up your dating app openers, these 10 messages might just up your chances of a reply. And who knows? Maybe something will come out of your convo that you wouldn't have expected. And if something doesn't, at least you got to know someone a little better than you would've if you had just said, "Hey."