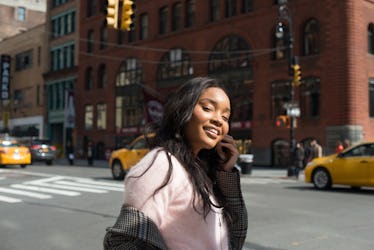 12 Women Reveal The Hottest Compliment They've Ever Gotten From A Partner
Over time, I've learned that there are two things I need to survive in life: Compliments and coffee. Much like Tinker Bell, I need people to believe in me in order to stay alive. (And by "believe in me," I mean tell me I'm smart and pretty and you definitely cannot tell that I haven't slept in five days. Which is where the coffee comes in.) The point is — whether we'd like to admit this or not — we all benefit from (or desperately crave) a little verbal validation every now and again. And the best compliments for girlfriends (and everyone else, for that matter) often have nothing to do with looking pretty or deceitfully well-rested...
After asking a handful of women about the hottest compliments they've heard from their partners, many agreed that the greatest compliments are those that touch on a trait they're proud to possess (or aim to possess) — not, like, "Your body's banging." Though TBH, hearing that never really hurts.
Personally, my favorite compliments have always been the ones I've heard secondhand. When a boyfriend's best friend has turned to me and said, "You should hear the way he talks about you, we've never seen him this happy before." Or when a guy has thanked my mom for raising me just as she did. There's no agenda in a compliment like that, and they just make my heart glow.
At the end of the day, anyone can praise your smile or your figure. But your ambition and character and warmth? Those are the compliments only a select few can give, which makes them special and touching, as well as incredibly hot.
Here's what 12 women said were the greatest compliments they've ever gotten from a partner. Fair warning: You might need some tissues (and maybe a cold shower?) after reading these.