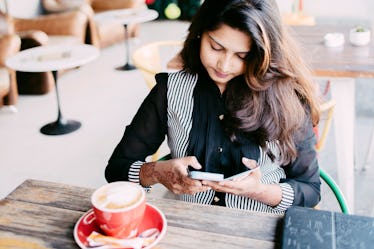 If You're Burnt Out By Dating Apps, It's Because You Might Be Using Them Wrong
This might be unfair, but there are few dating app questions I hate more than, "So, what are you looking for here?" It's just such a loaded question, and one I can hardly answer before I've had the chance to interact with a person in real life. I mean, I don't know, Daryl — maybe I'm looking for a few drinks and a good time? Maybe I'm looking for the future father of my children? Maybe I'm looking for someone to help me escape the feeling of being burnt out by dating apps? There are just so many ways this could go, bro.
The real answer, of course, is that I'm looking for a spark: A connection with someone, in one form or another. And it's impossible to determine whether or not that spark exists if you're swiping through dating apps out of sheer obligation — "obligaswiping," if you will — rather than with the goal of meeting someone IRL. Because regardless of the kind of date or relationship you may be after, you should be after something if you're swiping at all. Otherwise, you're really just wasting your own time as well as everyone else's.
"Obligaswiping is a chronic issue and I see it all the time!" says Meredith Golden, dating expert and founder of SpoonmeetSpoon. "It usually manifests in one of three ways. One, the single is bored and swiping to fill a short burst of time but isn't really engaging in the process. Two, the single becomes overwhelmed by the sheer volume of options and ditches the project altogether. Three, the single is swiping in order to get an ego boost."
TBH, I've been there (in all three scenarios) as well. I'll enthusiastically download a dating app, maybe even update my photos and bio (if I'm feeling wild!), and, within a few hours or days, inevitably become bored with the monotonous small talk and matches at my fingertips. It's a slippery slope.
If you've recently found yourself lost and bemused in the swiping hustle, you may want to rethink your approach. Here are three ways to revamp your life in the world of dating apps (with purpose, intention, and energy to boot!).