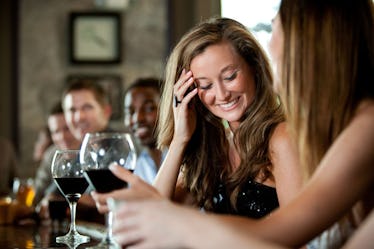 8 Clever Pick-Up Lines That Aren't Too Cheesy, So You Can Seriously Up Your Dating Game
Meeting someone new can be difficult, especially if you want to make it clear that you're interested. It can be tricky to walk the line between being tactful and being obvious. It's scary out there, y'all — I get it. But if you want to make the first move and put yourself out there, then these clever pickup lines that aren't cheesy might be just what you need.
Disclaimer: There's no guarantee that these will land you the great love of your life. I'm just saying, they could help break the ice. You never know when you're going to need a good pick-up line! Whether you meet someone on a dating app, at a bar, or through mutual friends, it's always helpful to have a little something something in your back pocket. You may want to communicate that you're interested in a fun and flirty way, but "Hey, let's Netflix and chill," isn't always 100 percent effective. Or hey, maybe it is. Different strokes for different folks!
The point is, most people will probably appreciate the effort that comes with a clever (and not creepy!) pick-up line that lets them know you're interested. See below for a few subtle (or not so subtle) lines to try!