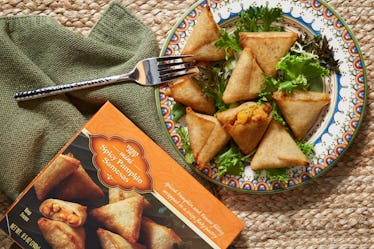 The Tastiest Trader Joe's Snacks For Fall Are Here & I'm Drooling
Are you heading out on your weekly grocery store run? Before you grab a reusable bag and your car keys, why don't you get the pumpkin-spiced scoop on the best Trader Joe's snacks for fall 2020? These delicious and fresh products will get you in the right mood for autumn, and are bound to make your kitchen smell like a restaurant with farm-to-table food.
You already know the soothing, lovely aromas that come with a Trader Joe's frozen dinner that's being prepared on your stovetop. You've been a fan of the brand since it dropped its chocolatey dunkers or sweet potato gnocchi. Whenever your partner or roommate comes into your kitchen after you've wandered down the cheery aisles of the store, they can always find one-of-a-kind snacks that just recently hit shelves. You're frequently showing them Trader Joe's stan accounts on IG with the full intention of creating your own someday.
Now it's a new season, which means you need the latest scoop on what's coming to your local Trader Joe's. Here are 10 products to have on your radar that are jam-packed with pumpkin flavor or inspired by the cozy ingredients of the season.