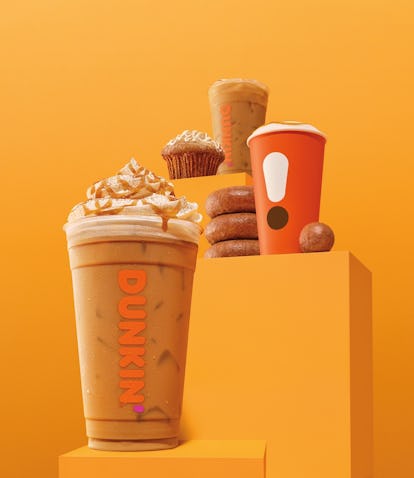 Yes! Dunkin's PSL Is Returning To Stores Earlier Than Ever
It's officially August, which means it's basically September, which means fall is practically here. But you can't really get in the fall mood until the PSL makes its triumphant return. If you're already pulling out beanies and flannels from storage, you might want to know when Dunkin's Pumpkin Spice Latte will come back in 2022 before to kick off the start of cozy season. Here's what you need to know about the seasonal sip.
IDK about you, but the dog days of summer have already got me fantasizing about the next time I'll get to feel the crisp fall air on my face, so I decided to do some digging into the return of Dunkin's PSL to help get a jump start on the season. The official Signature PSL at Dunkin' only debuted two years ago, in 2020, but the company has long offered pumpkin-flavored coffee and treats for customers who want to dive right into fall. In past years, Dunkin' has released its fall menu as early as mid-August (in 2021, the Pumpkin Spice Latte got its earliest debut ever on Aug. 18), which could mean there might only be a few weeks between you and your favorite seasonal sip. That being said, the company is staying pretty tight-lipped about when fans can expect to see the upcoming fall items hit the menu.
On Aug. 10, Dunkin' confirmed the fall lineup, including the Signature Pumpkin Spice Latte, will launch on Aug. 17, which does make it the earliest return yet. Thankfully, it's available iced or hot, so you can still get your pumpkin fill as the summer heat rages on.
Prior to the ~official~ confirmation from Dunkin', blogger and Instagram foodie @Markie_Devo leaked what appears to be the fall 2022 lineup full of new and returning sips, Dunkin's Halloween specialty items, and more. Turns out the Aug. 17 date was correct, and now you have a mere seven days to wait before you can go full-on cozy season. Need proof of the drink's early return? Dunkin's PSL debuted on Aug. 19 in 2020 and on Aug. 21 in 2019 — and again, the Aug. 18 release in 2021 was the earliest to date. So an Aug. 17 return of Dunkin's PSL would beat that.
If you need a refresher on the drink, it features pumpkin and vanilla flavors, espresso, and "warming spices," according to the chain's press release. Plus, it's topped with whipped cream, a drizzle of caramel, and cinnamon sugar. Oh, and the mid-August return means Dunkin's Pumpkin Spice Latte will be available nearly two weeks before Starbucks' PSL reportedly hits stores on Aug. 30, so if you can't wait until the end of August to get your pumpkin spice fill, Dunkin' has got you covered.
Along with the autumnal staple, the fall 2022 Dunkin' lineup includes even more returning faves, like the Pumpkin Cream Cold Brew, which made its debut in 2021. Dunkin' will also roll out two new bevs that'll surely make the transition from summer to fall a little smoother: a new Blood Orange Refresher, and a Nutty Pumpkin Coffee that features pumpkin flavoring and a shot of hazelnut.
It doesn't matter what the calendar (or the weather) says, because fall is officially in full swing now that Dunkin's Pumpkin Spice Latte is almost here.
This article was originally published on