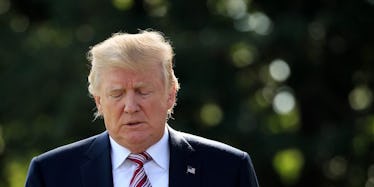 Twitter Is Roasting Donald Trump With Yet Another Impeachment Hashtag
Drew Angerer/Getty Images
Another day, another call to impeach the president. After a weekend of President Donald Trump lashing out at the NFL, Puerto Rican leaders, and even his own secretary of state, it seems like the internet has had enough. All day on Sunday, a hashtag about why we must impeach Trump in 7 words was trending on Twitter.
It's not the first time that Twitter has called for impeaching or otherwise removing Trump from office. In fact, Twitter does it all the time — Back in July, for example, the hashtag #25thAmendmentNow trended after Trump tweeted out a violent gif of himself attacking an anthropomorphic version of the CNN logo. And in February the idea of a #TrumpImpeachmentParty took off after Trump National Security Adviser Michael Flynn had to resign over rumors around Russian blackmail. So, this isn't anything super unusual at this point, is what I'm saying.
Does that mean it's not still funny? Heck no.
Of course, the problem is that for us to get hilarious jokes about why Trump should be removed from office, Trump has to do something — or many things — that are crazy enough that everyone's thinking it at the same time.
This past week, those things were tweet storms about NFL players' protests against police brutality and racial bias at football games; freaking out because the mayor of San Juan, Puerto Rico refuted his claims that disaster relief was going well; and throwing his own secretary of state, Rex Tillerson, under the bus for attempting to improve relations with North Korea. So, terrifying or appalling, variously, but hey, at least we're getting some good Twitter jokes about the whole thing?
Many of the tweets referenced the ongoing crisis in Puerto Rico in particular.
Hurricane Maria hit the U.S. territory on Sept. 20, and the devastation is overwhelming. The island of more than 3 million people is still mostly without power more than a week after the storm knocked out the electrical grid, and many still don't have access to drinking water. Residents are predicted to be without power for six to eight months, per the BBC, and many, including the mayor of San Juan, Carmen Yulin Cruz, are living in shelters after more than 90% of homes on the island were damaged.
In spite of the devastating damage done to the American community — because Puerto Rico is part of the United States, and its residents are U.S. citizens — Trump remained surprisingly unfocused on the crisis, aside from a few initial murmurs of sympathy and platitudes. When he did comment, he alternately blamed Puerto Rico for its own misfortune, citing the territory's financial difficulties, or talked about the fact that Puerto Rico is an island "surrounded by water. Big water. Ocean water." (Which is, yes, the definition of an island.) Many saw the discrepancy between the aid given to Puerto Rico and the aid given to Texas and Florida after Hurricanes Harvey and Irma respectively as being based in racism.
And then on Sunday, from his golf club in New Jersey, he started another one-sided Twitter feud with Cruz after she called public attention to the crisis. Cruz said,
When you're drinking from a creek, it's not a good news story. When you don't have food for a baby, it's not a good news story. When you have to pull people down from buildings — I'm sorry, that really upsets me and frustrates me. ... Dammit, this is not a good news story. This is a 'people are dying' story. It's a life-or-death story.
Trump, in turn, tweeted out an attack on "politically motivated ingrates."
It did not go over well.
So, yeah. Everything behind the hashtag isn't, actually, that funny. In fact, it's pretty serious. Like, life and death serious.
Kind of takes the sheen off it.