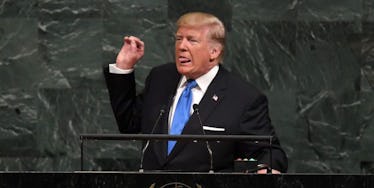 Trump Attacked The NFL On Twitter, And No One's Having It
TIMOTHY A. CLARY/AFP/Getty Images
Sunday is supposed to be a day of rest — and football — but the commander in chief's early-morning social media posts certainly haven't promoted a feeling of relaxation. President Donald Trump's tweets about the NFL caused quite an uproar, pitting people against one another for more reasons than siding with a different team. The sport has officially become political.
UPDATE: In response to President Donald Trump calling for NFL owners to fire players who kneel out of protest during the National Anthem, it's been revealed that Pittsburgh Steelers head coach Mike Tomlin said the team will remain in the locker room on the Sunday, Sept. 24 game against the Chicago Bears during the National Anthem.
EARLIER: The president's first tweet of the day on Sept. 24 read, "If NFL fans refuse to go to games until players stop disrespecting our Flag & Country, you will see change take place fast. Fire or suspend!"
But he didn't stop there. In a second tweet, Trump wrote, "NFL attendance and ratings are WAY DOWN. Boring games yes, but many stay away because they love our country. League should back U.S."
The tension has escalated since the president's statement at Republican Senator Luther Strange's campaign rally on Friday, Sept. 22 in Alabama. During his speech, Trump condemned the players who kneel during the National Anthem out of protest for his policies. His statement, "Get that son of a b*tch off the field right now, he's fired. He's fired!" garnered quite a bit of attention while #takeaknee became a trending hashtag.
Players from both the Baltimore Ravens and Jacksonville Jaguars kneeled early on Sunday Sept. 24 during a game, undoubtedly adding fuel to the fire.
Of course, people responded to Trump's tweets about the NFL.
These are just some of the thousands of remarks people have chimed in with during the Trump-NFL beef. Now, players are firing back, too. Take for example Richard Sherman of the Seattle Seahawks. "The behavior of the President is unacceptable and needs to be addressed," he said, according to The Hollywood Reporter. "If you do not Condemn this divisive Rhetoric you are Condoning it!!" Adding to that sentiment, Ava DuVernay said, "He's not declaring war on NFL and NBA. Owners are his donors. He's declaring way against black people with opinions," according to The Hollywood Reporter. 
Then, there are those who are siding with the president.
What is considered a pastime that brings people together is now dividing them. Some feel peaceful protest is within the players' rights, while others feel as though kneeling during the National Anthem is a major disrespect to our country. But regardless of stances on the NFL issue, there are plenty of other areas that require attention, North Korea being one of the most concerning.
In response to Trump's remarks at the U.N., North Korea leaders shared a rare first-person statement from leader Kim Jong-un and foreign minister Ri Yong-ho, in which he suggested that North Korea could test nuclear weapons in the Pacific Ocean. The leader's statement read,
I will make the man holding the prerogative of the supreme command in the U.S. pay dearly for his speech calling for totally destroying the DPRK. This is not a rhetorical expression loved by Trump. … Whatever Trump might have expected, he will face results beyond his expectation. I will surely and definitely tame the mentally deranged U.S. dotard with fire.
North Korea isn't the only concern. The Graham-Cassidy proposal is the Republican's latest attempt to repeal and replace the Affordable Care Act, and Senator John McCain announced he would vote against it, further adding tension to the country's already complicated health care situation.
So while Sunday morning started off with NFL negativity, there are definitely greater concerns to address. Let's hope that all the important issues at hand — North Korean threats, health care struggles, cleanup after natural disasters — will take priority over the NFL debacle.