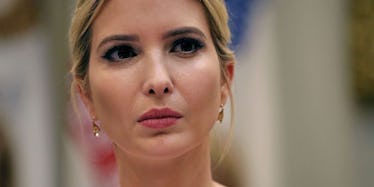 The Latest Trump-Russia Email Is Bringing Ivanka Into The Mix
Chip Somodevilla / Getty Images
Ahhh, another day, another incriminating email, and another cautiously hopeful round of Twitter users whipping out their impeach and resign hashtags. More and more evidence is cropping up that points to Donald Trump's collusion with Russia – and this time around there's a new family member being pulled into the mix.  The latest Trump-Russia email involves Ivanka Trump, and a trip she took to Moscow back in 2006.
According to a 2015 email exchange obtained by The New York Times, President Trump's business associate Felix Sater wrote to Trump's lawyer, Michael Cohen, claiming that he had arranged for Ivanka to make a trip to Russia, which included a stop to Vladimir Putin's private office where she allegedly sat in the president's chair.
Sater used this bit of information to bolster his claim that he could get the Russian government in bed for the upcoming presidential campaign. He suggested that building a Trump Tower in Moscow would guarantee a political win, writing:
Our boy can become president of the USA and we can engineer it. I will get all of Putins team to buy in on this, I will manage this process.
Ivanka told the Times that her trip to Moscow had nothing to do with a Trump Tower development, and that her "brief tour" of Red Square and the Kremlin was conducted as a tourist. She added that she has never met Putin.
The Moscow/Trump real estate project never came to fruition, and in a statement released Aug. 28 to the Times, the Trump Organization said that it "has never had any real estate holdings or interests in Russia."
Cohen also contributed his own thoughts to the mix, undercutting Sater's claims of influence. He said,
[Sater] has sometimes used colorful language and has been prone to 'salesmanship.' I ultimately determined that the proposal was not feasible and never agreed to make a trip to Russia.
Indeed, Sater's main job was to create real estate deals for Trump, so puffery and boasting could have gone hand-in-hand with his emails.
However, the correspondence is just one item on a grocery list of suspicious emails.
Congressional investigators looking into Russia's meddling with the presidential election recently uncovered an email correspondence written last year by Rick Dearborn, Trump's current deputy chief of staff and former campaign aide, stating that an individual dubbed "WV" wanted to set up a connection between the Trump campaign and Russian President Putin.
And, back in July, it was discovered that the president's son, Donald Trump Jr., his son-in-law, Jared Kushner, and his then-campaign chair Paul Manafort all sat down with a Russian lawyer, who is suspected to be connected with the Russian government and who allegedly promised them dirt on opponent Hillary Clinton.
While it's unclear how much Ivanka knew about these email exchanges and meetings, her husband was well aware of the context of the meeting he attended ahead of time. Kushner was forwarded the emails that explained the lawyer had information that could hurt Clinton's campaign – and made reference to Putin's support of Trump. It is pretty safe to assume a husband and wife would have discussed something as major as that.
We still don't know if the Trump family was actively involved in collusion, but on Twitter, some are already thanking Sater for dragging Ivanka along into the investigation.
Now, all we can do is await more evidence... and some sort of inevitable angry tweet from Trump, saying that everyone is out to get him.