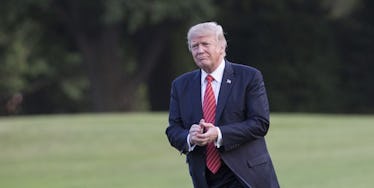 New Russia Email Has Twitter Counting Down To A Trump Impeachment
Chris Kleponis-Pool/Getty Images
Suspicions of Donald Trump's collusions with Russia intensified on Aug. 23, when CNN reported the existence of a new email that hinted at further contact between the Trump 2016 campaign and Russian President Vladimir Putin. Unsurprisingly, tweets about the new Russia email, laced with hope for impeachment, quickly flooded the social media sphere.
While it's too soon to say if this new discovery will lead to anything concrete, congressional investigators reportedly uncovered a correspondence written last year by current deputy chief of staff and former campaign aide, Rick Dearborn, referencing an individual called "WV" who wanted to connect the Trump campaign with Putin. Sources speculate that the initials might signal the person in question had ties to West Virginia.
There's no evidence that Dearborn pursued WV's offer to set up a connection, but it suggests that Russian attempts to get involved in the 2016 presidential campaign, and particularly to fight alongside Trump, were pretty widespread.
This is not the first reported attempt at contact between the Trump campaign and Russia that has been made public. In July, it was revealed that Donald Trump Jr., as well as the president's son-in-law Jared Kushner and campaign chair Paul Manafort had met with a Russian lawyer known to be connected to the Kremlin. And in mid-August, it was revealed that a staffer named George Papadopoulos had tried to set up meetings with Russian leadership. Not to mention the reported meetings between Russian Ambassador Sergey Kislyak and now-Attorney General Jeff Sessions.
So, there's kind of a pattern.
Some anti-Trumpers took to Twitter to express very, very cautious hope that this discovery will be the beginning of the end for the president.
Others took a far more confident route, and began counting down the days until Trump is officially busted.
It's still really hard to say what's going to happen next with this whole Russian scandal. But for now, at the very least, there's ample opportunities to make some more "but her emails!" jokes.